Activated Carbon Filters
Orenco's 3" and 4" Carbon Filters are used to reduce the odor of sewer gases. Containing impregnated activated carbon, the UV resistant PVC housing slips onto standard Schedule 40-size pipe. Carbon recharge packages and adapter bushings are available.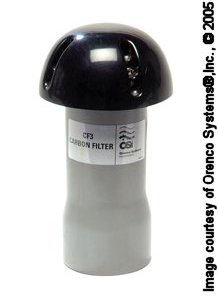 Features & Benefits:



Fits on typical building vent systems, simplifying installation



Pre-filled with specially impregnated activated carbon; rapidly adsorbs and eliminates offensive odors



Includes large amounts of baron; assures long-lasting performance



Eliminates the use of harmful and expensive chemicals



Filter housing and cover constructed of corrosion-resistant materials, to ensure long life



Weather cap prevents rain, snow and ice from entering filter



Adapter bushings available, allowing filter to mount on virtually any septic venting outlet



Recharge packages available, simplifying service and extending filter life.
Back to Products