Pump Packages

Biotube® ProSTEPTM
Orenco Systems offers an array ProSTEPTM Effluent Pump packages for virtually any application. As with any quality wastewater system, it begins with a watertight septic tank, providing primary treatment through natural, organic decomposition. The patented Biotube® Pump Vault filters out solids, before pumping to community collection lines, distribution boxes, or an advanced treatment unit. Because the effluent is of high quality, drainfields will not be subject to solids carryover and treatment systems can be less complex.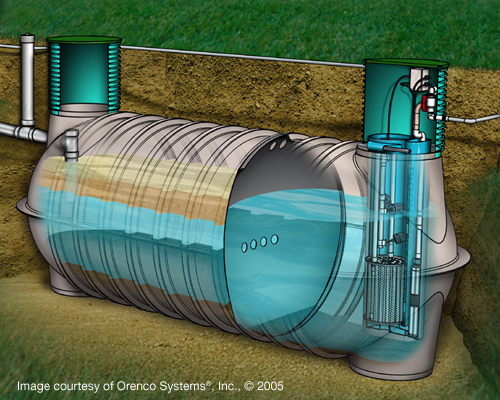 Atlantic Solutions along with Orenco Systems have developed ProSTEPTM packages specific to local regulatory requirements. These packages are available for quick delivery and installation is simplified. A comprehensive installation manual is enclosed in every package.
Package model PSA10-PAS1-CW has been designed specifically for single family residential and small commercial repair systems. This package is capable of pumping against heads up to 225 ft, but has a low maximum flow rate of 15 GPM to prevent agitation of solids inside the tank. Package includes cold weather protection for control panel and pump discharge line.
Package model PSB50-PAMVP-DB has been designed specifically for pressurized drainfields. An MVP control panel operates the pump and can be programmed for either time or demand dosing. This package is capable of pumping against heads up to 60 ft and flow rates of over 70 GPM. Orenco's PumpSelectTM program is available for assistance with pump design for any type of pressurized drainfield, sand filter, or treatment system.
Back to Products